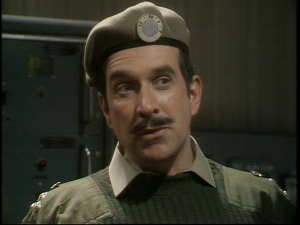 The following contains spoilers for the "Death in Heaven" Doctor Who episode, and before anyone says anything, YES I KNOW IT'S NOT REAL.
But.
Brigadier Alastair Gordon Lethbridge-Stewart was a childhood hero. His character, intended as a one-off in Troughton's days, had already been popular enough to be dusted off for a second Troughton outing, and then came back again to provide the sole continuity between Troughton and Pertwee Who. Nicholas Courtney played him as courteous, friendly, intelligent, brave, honest, a very good soldier, and fundamentally decent. In fact, as TV father figures go, he was more accessible than the Doctor, being strictly human and of our time. I think part of his popularity was that, like Sarah Jane Smith, you always got the impression that the character was an extension of an equally likeable-in-real-life actor, and like Sarah Jane Smith, I was actually sorry to hear the actor in question had died.
Giving the Brig a daughter to take his place in latterday NuWho was a clever stroke, and Jemma Redgrave convincingly plays the part of a woman who might actually have been brought up by that particular man. She filled a Brigadier-shaped hole in the series.
And that is why it is so unconscionable that they turned him into a cyberman.
A BLOODY CYBERMAN!
And not even handled with any kind of sensitivity, or a way that respects me as a viewer who has tuned in for entertainment, expecting my intelligence to be engaged with and by the plot. It wasn't "Ooh, this will be a good plot twist", it was "Wevs, let's throw in the kitchen sink and make the fans gasp, 'cos that's what they do."
When Jean-Luc Picard was turned into a Borg – back in the days when such procedures weren't as easily reversible as changing your socks – fandom was riveted to see what would happen next. If there had been a Troughton/Pertwee/Baker era plotline where the Brig met a similar fate, I'm sure it would have had the same effect.
But, this? A 30-second knock-off to justify an utterly disposable line earlier in the episode? If there wasn't a dry eye in the house it was only because they were tears of rage.
Until yesterday my lasting memory of the Brigadier was of him in a green pullover, lips curled wryly, moustache bristling, probably a pair of binos round his neck, hands on his hips, barking orders like "chap with wings, five rounds rapid". He was the immovable object that any alien invasion had to get through; and we, the viewers, knew the aliens never would in a million years.
Now, my lasting memory will be of him as a soulless cyborg, a fate that is like re-animating Nelson and conscripting him into the French navy.
How dare they do that to my hero? How dare they?