It's an unusual surname and it's always intrigued me. The name Jeapes (pron. "Jeeps") has defied the analysis of every cheap, over-the-counter type of genealogical service I've ever tried, and you should see some of the variations that have been encountered over the years from people who mishear the spelling, or apply their own, or simply seem to draw a variation out of thin air.
Since the mid-nineties and the advent of decent search engines I've been contacted by other Jeapeses that I knew nothing of, and everything I know outside my immediate family comes from them. So, here goes.
The name apparently derives from Jep, named as one of the retainers fighting on the side of the Normans in 1066. (Now, that's class. And if I can live to be 101 and 7 months, I'll live to see the thousandth anniversary of the arrival of my forebears in this country. This is assuming that, aged 101 and 7 months, I'll be able to remember what I'm staying alive for.) So, I'm the descendant of a Dane who worked for a bunch of Norsemen living in the north of France who invaded England. I really feel I have roots.
A correspondent from Bassingbourn (north of Royston, Herts., which features a lot in what is to follow) tells me the name is connected locally with several variations: Geapes, Geaves, Jeeves, Jeeps, Jepps etc. In the index of the parish registers there are baptisms from 1670 to 1774 and burials from 1679 to 1769 for Jeeps, Jepps and Geapes: for Jeeves and Geeve(s) there are baptisms from 1723 to 1844, marriages from 1722 to 1848, a banns in 1798 and burials from 1798 to 1848.
From one source I heard that In 1216, Sir William Jeapes was apparently given the Earldom of Leeds, and built a castle there which is now Leeds Castle. I don't know if this is the Leeds Castle in Kent or a Leeds Castle that really is in Leeds; I suspect the latter. The source says that the castle apparently stayed with the Jeapeses until the early 19th century where is was lost to the state due to debts mounted by the 14th Earl of Leeds, Roland Jeapes.
However, I should also mention that correspondence with the curator of Leeds museum has failed to find the slightest proof of this.
There are also hints of some great schism in the family. At the beginning of this century, an extremely wealthy Jeapes who lived in London's Park Lane apparently paid certain members of his family a thousand pounds to stay away. Who was this wealthy Jeapes? Unknown, and if any of that thousand pounds reached my direct descendants it vanished pretty quickly. Some of my corresponding Jeapeses have contacted others, who have made it quite clear they don't want to stay contacted. So it goes.
I'm indebted to film historian Luke McKernan for this paragraph. Brothers Harold H. Jeapes and William Cecil Jeapes both worked for a British newsreel called Topical Budget (1911-1931). Harold was a cameraman (his previous occupation was a jockey), William was the managing director. William was also an experimenter with film technologies and before he was with Topical he was with the Warwick Trading Company which produced the Jeapes-Barker Cinephone (1908), a method of synchronising sound discs with silent films and which is included in a full list of extinct media. In 1926 William left Topical and went on to run another newsreel, Empire News Bulletin, which became Universal Talking News in 1930 when the talkies began. His son Clifford took over Universal from him. Meanwhile Harold served as a cameraman on each of his brother's film companies. With a pair called Walter Evan Davies and John 'Bunny' Hutchins he filmed the signing of the Versailles Peace Treaty, and also shot a famous film of General Allenby entering Jerusalem in 1917 which happens to be one of the few films that show actual shots of Lawrence of Arabia.
Biographies of Harold, William and Clifford are all available courtesy of the BUFVC.
A Pilot Officer Sidney Jeapes was killed in action over Germany during WW2, in April 1944; another correspondent (or possibly the originator of the Leeds Castle story; I forget) told me he was a member of 617 Squadron, otherwise known as the Dambusters. Sadly that too appears to be a myth as his name doesn't appear in any Dambuster or 617 Squadron history. He is buried in the Commonwealth War Graves commission cemetery at Durnbach, just outside Munich – as, coincidentally, is my stepson's great-uncle.
My uncle, who died in 2010, worked in television; my father is a retired soldier with a book to his credit; I'm a writer: funny how we seem to be perpetuating the dual themes of killing people and being arty.
Back at the plot, my grandfather Stanley was born in Catford early this century, but other than that the line is a blank because he apparently left home after an argument with his father about the way his mother was treated. Rather counterproductively, he never spoke to either of them again. His siblings — Reg, Vera and Elsie — stayed in touch, but obviously respected his wishes not to talk about their background to my father and uncle.
The Jeapes information below, up until the 1870s, lists names and dates of birth, christening, marriage or something else, which may be any of the above. Often, for a "something else", the spouse is listed, so the event might well be a marriage. There are occasional runs of names and places, but also infuriating gaps: for example, lists of children of parents who appear out of thin air.
Most of this comes from the 1994 Edition of the International Genealogical Index; since this list first appeared, several other Jeapes's have got in touch with more information which has been incorporated as well. My thanks to you all.
Anyway, read on.
17th Century
Something happened to Margaret Jeapes on 12 January 1602 at Saint Edward, Cambridge. Her spouse was a Richard Knockell, so perhaps her wedding is the cause of the date being known.
Likewise, something happened to Barberye Jeapes on 13 April 1623 in Knapwell, Cambridge. Her spouse was Robert Mason: again, the marriage might have been the event.
Elizabeth Jeapes, daughter of John and Elizabeth, was christened on 12 February 1654 in Foxton, Cambridge.
Something happened to Robert Jeapes (married to Elizabeth Barker) on 26 June 1664 in Royston, Hertford.
William Jeapes, son of William and Judeth, was christened on 19 August 1666 in Royston, Hertford. It seems reasonable to assume William sr was a brother of Robert.
Something happened to another Robert Jeapes, married to Mary Ibbett, on 8 November 1668 in Royston, Hertford.
Back in Cambridge, John Jeapes, son of John and Susanna, was christened on 25 December 1672 in Bassingbourn, Cambridge.
Another Robert Jeapes, son of Robert and Alice, was christened on 22 October 1674 in Royston, Hertford. Unless one Robert Jeapes got through three wives, we now have four Robert Jeapes' in Royston, Hertford. Perhaps calling them all Robert saved confusion.
Mary Jeapes, daughter of Richard and Elizebeth, was christened on 11 June 1676 in Haslingfield, Cambridge.
Something happened to a Mary Jeapes, married to Richard Newuill, on 12 October 1676 in Royston, Hertford.
18th Century
Mary Jeapes was christened on 27 January 1730. Her mother was Ann Jeapes: her father is just recorded as Leeteof Comberton, Cambridge.
We come to the first definite run of Jeapes'. William Jeapes was born about 1702 and married Elizabeth Parish of Fowlmere, Cambridge. Their children were William Jeapes, christened 26 October 1728; Elizabeth Jeapes, christened 14 July 1730; and Ann Jeapes, christened 25 September 1732. All three children were christened in Fowlmere, Cambridge.
Sarah Jeapeswas christened 28 June 1775 in Balsham, Cambridge. She is also listed as the daughter of William and Elizabeth, but given the date I suspect the father was William Jr. (above) who had also married an Elizabeth. Freud would have loved this family.
Francis Jeapes, son of Robert and Esther, was christened on 15 May 1763 in Bourn, Cambridge.
Richard Jeapes, son of Richard Jeapes, was christened on 25 May 1777 in Longstowe, Cambridge.
19th Century
We come to another run: a list of children of Thomas and Mary Jeapes. Emma Jeapes was christened on 18 March 1827. Clara Jeapes was christened on 25 May 1828. Thomas James Jeapes was christened on 8 November 1829. All were done in Cheshunt, Hertford.

Thomas Senior might be my great-great-great-grandfather, who was called Thomas, was born in Cheshunt in 1796 and who married Mary Ann Cole (b 1805, Waltham Abbey, Essex). This Thomas & Mary definitely had a son Aaron (see below), born 1841, who isn't included in the baptism list of the children of the Thomas & Mary above – but having two Thomases and Marys married to each other at the same time is surely unlikely. Great-great-great grandfather Thomas was a postman in 1840 and a letter carrier in 1851 (not quite sure of the difference here). He died in 1859 and Mary died in 1888, both at Cheshunt.

Next, a probable but not proven run of siblings. George Jasper Jeapes, son of George Jasper Jeapes and Elizabeth, was christened on 24 July 1825 in Saint Giles, Camberwell, London. There are two more Jeapes' listed as children of George (not specifically George Jasper) and Elizabeth, both christened in Camberwell, Surrey on 7 April 1832: Charles Jeapes and Elizabeth Jeapes. It seems likely that they're all one happy family, but because of the number of Robert Jeapes' living in Royston I hesitate to be definite about it.
Now another run: the four daughters of Jesse and Anne Maria Jeapes. I think of them as the Line of Jesse. All were christened in Saint Luke's, Westminster, London. Jane Ellen Jeapes was done on 8 February 1857; then Amelia Sophia Jeapes, Mary Rhoda Jeapes and Rosina Emily Jeapes were all done on 7 July 1869.
Meanwhile, John Jesse Jeapes, son of Robert and Sarah Ann, was christened on 26 September 1869 at Saint John Evangelist, Limehouse, London.
Florence Eleanor Jeapes, daughter of Amos and Isabella Jeapes, was christened on 19 March 1871 at Waltham Cross, Hertford. She had four siblings listed in the 1881 British Census: Albert Amos (b. 1873), "Bertie" (real name Herbert Henry) (b. 1875), William (b. 1877) and Edith(b. 1880), all born in Cheshunt, Hertford.

Amos died on 12 September 1929 in Brighton, leaving £859.17s/6d to his sons William Cecil Jeapes, company director, and Harold Holbein Jeapes, cinematographer. Was this the Harold Jeapes who filmed the signing of the Versailles Treaty? I suspect so.

Bertie married Mary Hammond Bond in 1901 in Hackney & Islington, in a marriage that for some reason was registered twice. They had ten children between 1902 and 1918.

The 1881 Census also lists a widow Mary Jeapes, age 76 born in Essex and living with her unmarried daughter Ann Jeapes, age 41, born in Cheshunt, Hertford.
Now, pay attention!

Aaron Jeapes

(b. Cheshunt, 1841) was the older brother of Amos mentioned above. He married Mary Ann Paskins on 13 November 1864 at Milton, Sittingbourne, Kent. Aaron was a baker in 1864 and Millers Commercial Traveller in 1881. He died in 1931, aged 90, at Lewisham.

Aaron and Mary just kept on having children: reports vary on the precise number. On descendent says there were 22. The ones I know of are Charles J. (b.1866),

Arthur Thomas

(b.1868), Beatrice A. (b.1869), Rose Hannah (b. 1870, d. 1881), George H. (b.1871), Alfred E. (b.1873), Edith Elizabeth (b.1875), Alice C. (b.1876) and Frederick Walter (b.1877), who were all born in Kent. They then moved to Edmonton, Middlesex where Richard H. was born in 1880, William Edward in 1882 and Edwin Percy in 1883. There might be an Edgar…
Of Aaron's other children, Alfred E. (for Ernest) was killed by enemy action in London on 15 September 1940, aged 68. Frederick married Clara Wallis (b. 1879): they had twin daughters, Ivy (whose granddaughter provided information about this line) and Daisy (b. 1909), plus Arthur, Edward, Frank, Violet and Leslie.
Meanwhile, Charles J. (for James) married Emily Florence Hays on 18 September 1887. He then moved from London after the birth of their son Frank Albert Jeapes and settled in Hastings, East Sussex, where he ran the local Post Office. Frank married May Jane Mary Drury and had seven children; the daughter of one of these provided information about this line.
20th Century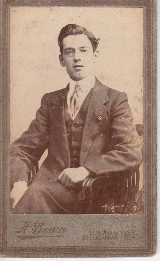 Aaron (see above) was my great-great-grandfather. Here he is on the left. His son Arthur married Alice Eliza Kell and they had five children: my grandfather, Stanley Arthur Bernard (1902), Dorothy Violet (1904, died 1910), Elsie Irene (1907), Vera Dorothy (1910) and Reginald D. Alice died in 1930 and left my grandfather £35, which was kind of her.
Elsewhere in the twentieth century, Pilot Officer Sidney Arthur Jeapes was born on 13 October 1916, the son of Albert Edward Jeapes and Ethel May Cole. Albert had served in the First World War, being discharged with a pension and malaria. Albert and Ethel also had a daughter, Lillian Blanche Jeapes. Sidney died in or over Germany on 25 April 1944. He served with Bomber Command in 44 Squadron and 630 Squadron, surviving a tour of 30 raids between May and November 1943. For some reason Sid thought it would be a good idea to sign up for a second tour with a different crew. This time he didn't survive.
My uncle Alan Jeapes was a motion graphics designer for the BBC, working on a number of programmes the older among us may remember: there's an archive of his work here, courtesy of Ravensbourne University London. I know of other twentieth century Jeapeses, some or all of whom are probably still alive, so I'll leave it there. However, I will put in a link to my father's Wikipedia entry. He was doing some web browsing one day, as one does, and discovered to his surprise that on a date after his retirement he was in charge of the US Special Forces. He thought maybe there should be a written record to set things straight.
And here ends the saga of the Jeapeses, for another generation. Years of isolation ended with the advent of the Internet and we now have a vibrant little online community at www.MyFamily.com. Give it a go – you might meet some relatives.
Sometimes I wish I was just called something like Smith, for simplicity's sake; but on the other hand, where's the fun in that?